DAY 8 - MELBOURNE
ROUND 11 - THE METROPOLITAN GOLF CLUB
All good things must come to an end and, after just a week in Australia, we were packing our bags at the QT hotel for our last day of golf before heading home. We had a tee time at Metropolitan at 9:30am, which would allow us to fit in a round in the afternoon if we felt our bodies could cope!
A couple of months before heading out to Australia I had received an email from a Metropolitan member, Don. Don has been a member there for many years and had reached out to offer any help we needed in planning our trip. Once again, here was someone who had a passion for the game, who just wanted to do what he could to make sure we had an enjoyable experience. There will be many aspects of this trip that will stick in my mind for a long time, but the kindness of strangers will definitely be one if them!
Alas, we had already booked our tee time directly with the club (for $400...) so we couldn't avail ourselves of a cheaper visitor's rate, but we absolutely could get the advantage of Don's local knowledge, anecdotes and experience to help us round. We hadn't organised it intentionally, but travelling as a three had been a real advantage on the trip - we were able to meet some great characters who could make up a 4 and show us the ropes on the way.
There's nothing quaint about the clubhouse at Metropolitan. The current building opened a few years ago and it provides a really sleek, polished, top-end experience (although be warned, they don't serve breakfast beyond a coffee and banana bread!).
Even a cursory bit of research about the course will set your expectations high about two things - the quality of the conditioning and the unusual look of the greenside bunkers. Neither will disappoint.
Firstly, the conditioning was truly exceptional. The fairways (couch grass for those interested in such things - most Australians were!) and greens (bentgrass) were among the very best I have played anywhere in the world. The greens were phenomenally slick, and often a good size as well, so putting the ball in the right place with your approach was key. We had a lot of three-putts, but we didn't stop smiling!
While the look of the greenside bunkers was something I was prepared for, they were still hypnotising. They are cut right into the green, which is mown to the edge, creating a line on the top that looks like it has been carved with a samurai blade.
The logos of Metropolitan and Royal Melbourne look like they were separated at birth and there is a reason for this. Metro was formed when a group of Royal Melbourne members chose not to move with the club when it relocated away from the city in 1901. A few years later though they did move south and built the bones of the course we see today. Alister MacKenzie's visit to these parts brought some modifications to the bunkers and other changes to the course. However, the course changed dramatically in the 1960s when much of the land for the back 9 was lost to a local school expansion and new holes were constructed on adjoining land.
The first 2 holes are a fantastic start - an accessible par 4, before a wonderful mid-length par 3 when you will really notice those Metro bunkers. Another call-out hole would be the par 4 5th where placement from the tee to allow the right approach to the sloping green is key. The impressive opening concludes with the winding par 5 6th - another world-class hole that would grace any top course.
It is fair to say that the front 9 is stronger than the back where the land is a little flatter and less interesting. However, I wouldn't want to exaggerate that too much. Despite a bit of awkward routing there are some lovely holes - the par 3 13th comes particularly to mind.
While I have majored on the quality of the presentation of the course, you will still get an authentic Sandbelt experience. Away from the fairways you will see the exposed sand and, if you miss the fairway, your lie is going to be a bit of a lottery - just as golf should be!
I would definitely recommend adding Metropolitan to a Melbourne itinerary. It oozes quality and as Mike Clayton has said, you'll never get a bad lie on the fairway (although, that's not necessarily to his pleasure!).
It was great to share a pint with Don on the terrace in the early Autumn sun. He has a great outlook on the game, and I thought an email he sent me really encapsulated what makes a good day on the golf course: 'It is a combination of so many factors - course architecture, weather on the day you played, how well you played, whether one lucky/unlucky bounce changed everything and lastly - but probably most important - who did you play with and what was the mood/vibe like. Did you have any fun? For isn't that really what it's all about?'.
Well put Don, well put.
I'll be honest, my golf was beginning to suffer a wee bit at this stage and a score above 30 points was beyond me, but I was one point clear of Glendo and so we decided to head out for just one more round before our evening flight home.
It had been a toss-up between the newly-renovated Victoria or the newly-renovated Peninsula Kingswood. In the end it was a pretty easy decision. I phoned them both up and Peninsula said they didn't take visitors that day. Victoria said 'no problem, head over' - decision made!
ROUND 12 - THE VICTORIA GOLF CLUB

When we were planning our trip, we weren't sure we were going to be able to play Victoria as it was undergoing extensive renovations led by Australia's top design firm, Ogilvy, Cocking, Clayton & Mead (OCCM).
There had been some criticism that the greens at Victoria were its Achilles heel. Mike Cocking, in this Golf Course Architecture article, explains their work - 'The club brought OCCM in to complete a greens replacement project – converting greens that had largely become poa annua and were inconsistent and difficult to manage, to a new variety of creeping bentgrass – Pure Distinction……Like many greens built in an era when seven or eight on the stimpmeter was considered fast; greens six, eleven and thirteen were so steeply contoured that they would need to be adjusted to allow a reasonable number of pins and general playability with a modern bentgrass'.
The course had just been open for a couple of week to visitors but the greens were in tremendous nick. If this was a problem previously, I don't think they will have any such concerns in the future.
Geoff Shackelford visited the Sandbelt in 2011 and proclaimed Victoria the most artfully presented of the premier Sandbelt courses. That article itself was said to have jolted Royal Melbourne and Kingston Heath into action and all three have taken the Sandbelt experience up another notch.
The whole package at Victoria works beautifully. You are welcomed in an inviting clubhouse, packed with memorabilia and home to one of the best club sandwiches man has ever made. The pro shop team were friendly and welcoming and the first tee puts a big smile on your face. You will see everything here you would expect of a Sandbelt course - exposed sand, rather than rough, and exquisite bunkering.
This is a course that definitely has a few quirks, but none of them detracted from the experience. I doubt there is a shorter par 4 opening hole on any top 100 course on the world - 229 meters, and downhill. However, even this benign opening asks strategic questions of the sort you will get used to as you plot your way around Victoria. Another well-documented quirk is that both 9s end with back-to-back par 5s. Unusual? For sure. A problem? Not at all.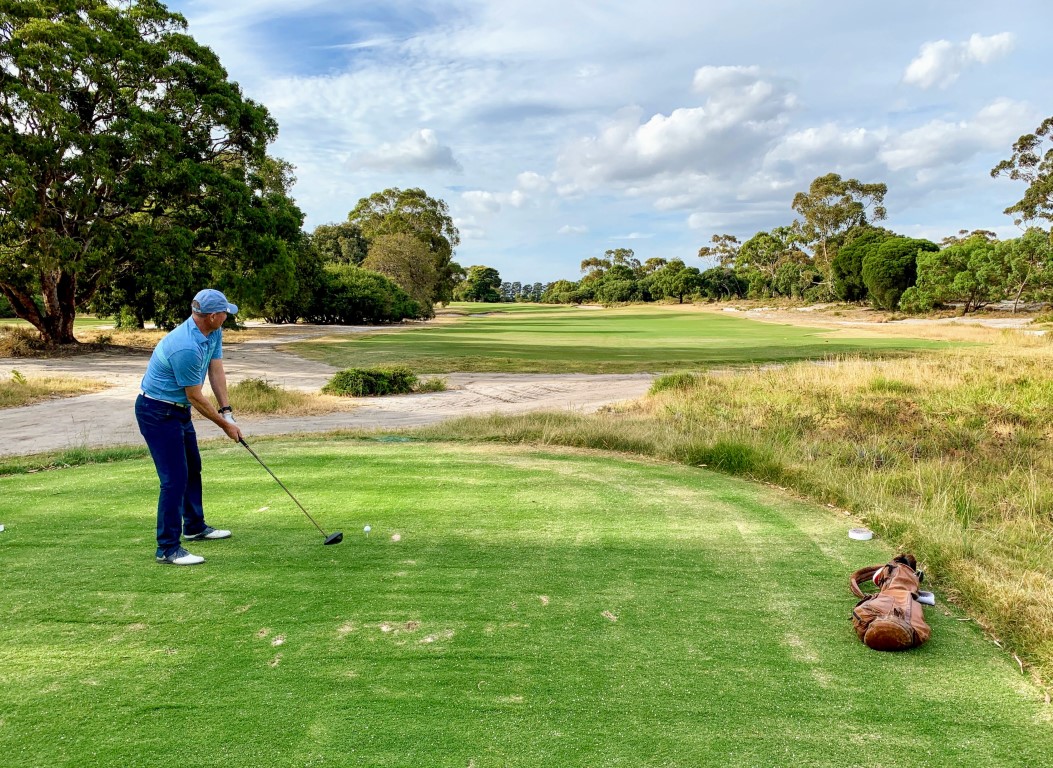 Particularly worth noting are the par 3s - one of the best collections we saw on the trip and the par 4 10th which is a great little dogleg hole which swoops up to an elevated green.
Our round was something of a rollercoaster of emotions. Glendo started really well and built up quite a lead over me. He needed to win the point for this round to tie me over the 12 rounds we'd played (alas Greig had fallen by the wayside some holes before!). Unfortunately, on about the 8th hole his body and swing just deserted him and it became a war of attrition over the back 9.
In the end, Glendo very generously conceded me a (very miss-able) two footer on the last to halve the game and give me victory over the 12 match rubber by a single point. Peter Thomson looked down as I was presented with the (somewhat modest) trophy). We had a beer on the terrace as the sun set and reflected on a trip of a lifetime.
We picked a host of stereotypical Australian songs (a Kylie/Natalie Imbruglia/John Farnham medley) for the car as we set off for the airport and our evening flight back to Europe.
You couldn't get the smiles off our faces! It had been a hell of a long way to go for one week's golf, and we packed in a lot, but we had made new friends and found new places that will live with us forever.
Reflecting on Don's words, he nailed what makes a great golf memory. I was lucky to have spent a week with two of my best friends seeing some of the best golf courses man has ever built. You can't ask much more than that!