For full course reviews, green fee details, booking info etc. click on the course title heading
DAYS 3 & 4 - BARNBOUGLE
BARNBOUGLE
We arrived in Barnbougle as the sun was setting on day 2 of our trip, pretty excited about what we were going to find. While golf in Australia is generally not that well known in the UK, there were a few flickers of recognition from my regular fourball companions at home when I mentioned Barnbougle. From those into their golf course architecture there was some envy.
The tale of Barnbougle's creation is well told. Amazing dune land, not fit for potato growing, became the home to two wonderful golf courses on the back of Mike Keiser and Tom Doak's enthusiasm, and owner Richard Sattler's money.
The two courses - Barnbougle Dunes and Lost Farm are ranked at 36 and 61 in my Ultimate Golf Rankings. A pretty impressive achievement for sure, and I was excited to see whether they lived up to my high hopes.
We stayed at the Lost Farm hotel. Your other on-site option is the Barnbougle Dunes lodges. We decided on the hotel on the basis that it had a sports bar. However, there is a bus that goes between the two, so it would be perfectly possible to stay at one and enjoy the facilities of the other.
To set expectations about the hotel accommodation, think solid 3 star - it is modelled on the Bandon Dunes experience. It is probably a little up on the Ocean Dunes Lodge hotel but luxury it isn't. The rooms were a good size, with a nice wee balcony, but more functional than I had maybe expected. They were also a little cold and the heater didn't seem to make much of a difference. However, for the price (A$185 for the night for a twin room) it's really not something to complain about and we were barely in the rooms.
The restaurant was fairly packed with the local Women's Institute from Launceston who were having a not-too-wild night out, and a few other groups of guys. Unfortunately, due to a delayed pick-up from the plane we didn't get to see the sun set from the restaurant, but I hear it's worth seeing! A bit like the rooms, the restaurant felt more functional than beautiful, and the food was good but not great.
After the meal we headed down to the sports bar which I had heard lots about pre-trip. It had plenty of screens up with sports on, and a good selection of beers, but it wasn't exactly the most cozy bar in the world.
I guess I'm just trying to set expectations for what to expect. Again, if you have seen Bandon, I'm told you will know what to expect. The only similar place I had been to before was Streamsong and that definitely has a higher quality finish, although is not any more soulful. Barnbougle facilities are perfectly serviceable but, as it should be, this place is all about the golf and the company. And that's just fine.
ROUND 4 - LOST FARM
It was with a spring in our step that we got up the next morning to see what Lost Farm had to offer.
I made a slightly earlier start than the others since I had pretty much lost my swing during the back 9 at Cape Wickham the previous day. Everything was going incredibly low off the club and violently left. It really was not a shot I relished trying to nurse around the next 9 or 10 rounds!
We had decided to get caddies for our 36 hole day at Barnbougle, partly to help with the fatigue but also because we had thought they would save us a few shots and give us a few tips.
Even though I was in the Pro Shop an hour early for my tee time, the first caddie was already there. He, like the other caddies here, was a local who pitched up when a visitor wanted someone to carry their bags and give some help. He only not gets a few bucks, but he and his family were able to play the courses free in return. That's a hell of a good deal!
My man cheerily said he would come down to the range with me. The poor guy, he must have been seriously worried with what he saw. The duck hooks were still there and I could do nothing to shake them. He tried to be encouraging but that only served to put more pressure on me and things didn't improve. Ah well…!
The first tee at Lost Farm is one of the widest first tees you will ever see, possibly a hundred yards in width and incredibly inviting. That helped, and I managed to get it off the tee but the first few holes were a bit of a struggle for me.
After 5 holes, I only had a few stableford points and at that stage the other 2 caddies started betting between themselves on Greig and Dave's performance over 18 holes. My guy sensibly stayed out of it!
I am glad to say though that golf once again proved the funniest of all games. A switch flicked on my swing on the 6th tee, confidence oozed into my very being and my scoring over the next 48 holes at Barnbougle was among the best I have had for years. A funny game indeed…
This is a course with great width from the tee and beyond. However, if you miss the fairway then you are normally dead. It had a very unusual look. The rough is more like a wall of grass surrounding the whole course and an 'The Irish Drop' is played where you take a lateral drop, for a one shot penalty. Sure, there are snakes in there, but you wouldn't find the ball anyway even if you went looking. At Ocean Dunes this really annoyed me. Here it was of little consequence because the width of the course meant you really had to be wild to be punished by the rough, and the greens have great run-off areas to help you before you get to the thick stuff.
As you would expect from a Bill Coore course there are many glorious features to enjoy. Around the greens, the best route to the pin is rarely the direct one and we greatly benefited from having caddies to show us some of the lines.
Without a doubt, this is a course that will unfold itself on multiple plays. When I suggested on Twitter that the Barnbougle Dunes course was ahead of Lost Farm in terms of quality, I was castigated by some. Michael Clayton said he would split his rounds 50:50, saying that Lost Farm copes better in higher winds due to the frequent direction changes the property allows.
The turf itself ran fast, and the greens were very true. However, I would say that the ground didn't play or run quite as linksy as the next door Barnbougle Dunes. The ground is generally flatter - set between huge dunes - and I found it a little less spectacular. For me, there were fewer memorable holes. I can remember every hole at the Dunes and will for some time. Lost Farm is more of a struggle.
However, there is much to like about the course. The par 3s are a real strength - and you are generally going in with a short club to keep it fun. Do try and keep out of the bunkers though. The sand on both courses just seems to go down forever and at times it felt like I was sinking - not conducive to getting the ball out!
As I said, my golf picked up and I walked off the course thinking I had played a really good, pleasant course. I was though a little nervous about what to expect at Barnbougle Dunes. Some, including the NoLayingUp team preferred Lost Farm. I shouldn't have been worried.
ROUNDS 5 AND 6 - BARNBOUGLE DUNES
We headed out after a very good lunch in the Barnbougle Dunes clubhouse (I thought the food here was better than at Lost Farm for the gastronomically-minded among you!).
My caddie, emboldened by my form of the morning, had decided to put some money on me for the afternoon. If truth be told I did find this a little bit of a pain, I put enough pressure on myself anyway without other people heaping on any more!
Having said that, he was quite possibly the best caddie I have ever had. He didn't berate me for my bad shots (cf. Threewood at NGLA) and was good company, with lots of titbits about the development of the courses.
Barnbougle Dunes was the first course on the property, the creation of Tom Doak and Mike Clayton, and opened in 2004. They have created something very special here - a links course that would feel at home at any seaside resort in the UK. And I would actually go a bit further than that. They have created a fantasy links golf course, in a land where none other exists. That's quite an achievement.
I have played most of the great links courses in the United Kingdom and Barnbougle Dunes would hold its own with virtually any of them, and surpass most. It is a phenomenal achievement and one that golfers from around the world should flock to.
This is a celebration of all things that make up great links golf - all turned up a notch. The ground really does run like a links course - something we hadn't seen at Ocean Dunes, Cape Wickham or Lost Farm. Here the ball would run for miles if you caught the right slopes. However, the ground is more undulating than pretty much any links course I can think of back in the UK. If you get your line wrong then you likely to find a steep up-slope or side-slope funneling your ball away from the intended target as it hits the ground.
You can read a fuller description of some of the joys in my full review here. However, I would particularly highlight the wonderful par 3 7th. At the time this may well have been the best par 3 I had ever played. (The 15th at Kingston Heath was still to come though!)
The front 9 is played more in the dunes and the course then opens up on the back 9 to be a really expansive links experience. In some way though it reminded me of Shinnecock, you could stand on summits and look across most of the property - here though you could also see the sea beyond.
As you can tell, I just loved Barnbougle Dunes. It really was several notches above Lost Farm for me. If I was there for 10 rounds I think I would split them 7:3 but both are wonderful places.
If I lived in Australia I would be on the plane to Barnbougle every year for my fix of links golf. For Australians it's 22 hours closer than visiting the UK, and the experience on Barnbougle Dunes is virtually identical to the UK.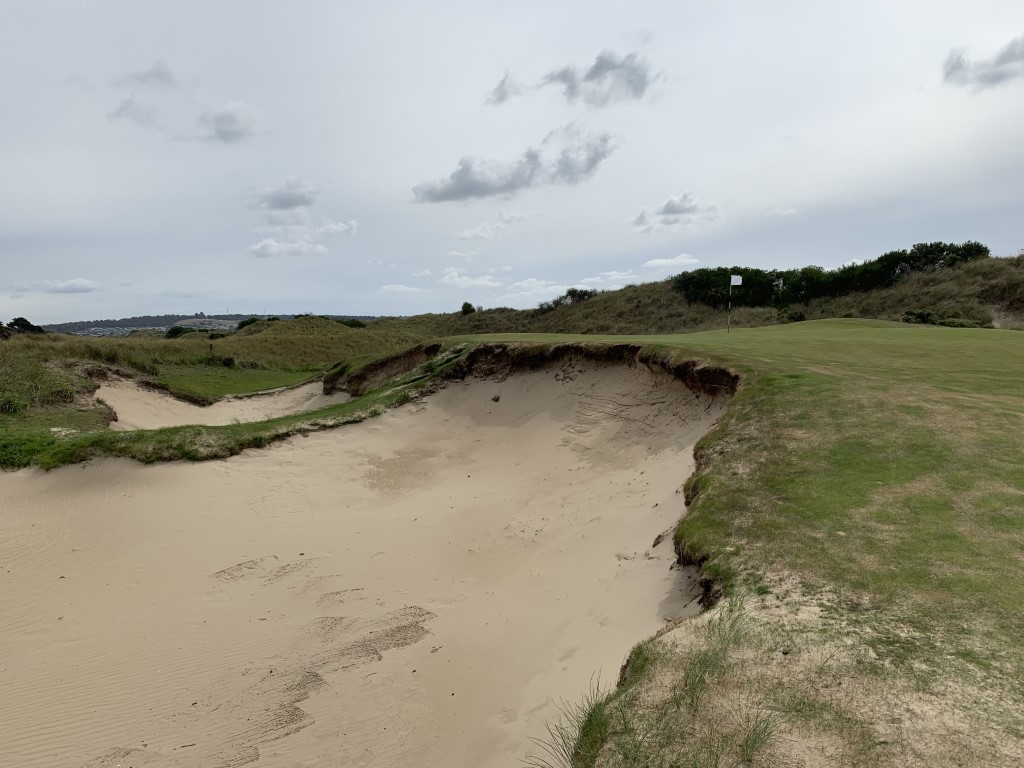 We spent under 48 hours here but the memories will live long. Having said that, we were beginning to feel the pace a little bit now. We had played 6 rounds in 72 hours and our limbs were getting a bit weary. Greig couldn't straighten out his arm properly and was beginning to worry about Royal Melbourne the next day, while Dave's feet were beginning to wilt under the 30,000 steps a day. My higher levels of basic fitness (!) were standing me in good stead, and I had won a few points on Tasmania, but I was still looking forward to a warm bath back on the mainland.
We had a final trip to make in our little Vortex Air plane, back to Melbourne. Given how tired we were feeling, it really was great to be able to go from walking out of the clubhouse to arriving in our hotel in Melbourne in just over a couple of hours. Tomorrow was going to be something special. Royal Melbourne here we come!!