Cape wickham links - 19 POINTS
When a new course comes onto the scene and debuts just in front of North Berwick and just behind Morfontaine in the top 100 golf course rankings, it had better be something special. I had probably read too much about Cape Wickham before playing it and started to have concerns that I had unrealistic expectations and would be disappointed. Well, I can assure anyone planning a visit they should have no such fears. This is one of the most incredible golf experiences you will find anywhere on the planet. To travel anywhere near this part of the world and not see Cape Wickham would be a crying shame.
The course is the product of the imagination of Darius Oliver and Mike DeVries, and they have clearly put their heart and soul into finding the best possible routing for the land. The opening and closing holes are around and overlooking a gorgeous cove and virtually every hole on the course has a view of the water. Many of the holes get closer to the rocks and crashing waves that I have seen anywhere before. We felt spray on our faces on both the par 3 11th and par 4 16th tees and the sound of the waves crashing around you makes for something pretty special.
The course opened in 2015 and has grown in very well already. Both fairways and greens have been planted with fescue and the transition between the two is seamless. The fairways didn't have a true links feel to them - they were rather like carpets, with a little give under foot. This is not meant as a criticism and the ball certainly ran well.
So the views are spectacular and the conditioning is great. But what really makes this such a great experience is the design of the course. The single most important factor for me is the incredible playability of the course. It's wide enough off the tee to give you confidence to hit the ball, but as with all the great courses, you need to pick your line with care.
Fairways are wide, but you need to put it in the right spot to score well. That means that everyone is going to be in on the hole - mid to high handicappers like me can get it around without too much pain and lower handicappers still need to play with precision to get the most out of their round. Just a perfect combination.
The greens are very well shaped with some dramatic undulation changes, but I found it relatively easy to see a way to the pin on most occasions. Again though, you need to think about the putts to score well.
For those reasons you really want to play at least two rounds on Cape Wickham. It would be criminal to come here and only play one round and you will benefit from the knowledge gained in round 1. They really encourage that with a $30 green fee for your second round.
I would find it very hard to pick out either a favourite hole or highlight of the round, such is the consistency. Tom Doak, in The Confidential Guide, says the 1st and 18th are two candidates for the strongest opening and closing holes in golf. The 9th is also a fantastic risk and reward par 5. Short enough to tempt many golfers to try to get to in 2, but with a potential horror awaiting if you miss the narrow green, with rough in the front and a cavernous drop through the back.
One of my partners made a really great comment as we walked off the course for the second time. He said 'It's everything Pebble Beach should be' and that's so true. Pebble has the drama and views at a handful of holes; here they are ever-present. If you were to get 100 people who had never heard of either course to play them both (this would not be easy to do!) I reckon Cape Wickham would be the overwhelming favourite.
The course has been taken into new ownership in the last year and there is talk of big investment. The clubhouse is still a temporary structure and will be replaced with something more substantial. New accommodation for guests will be built and, most interestingly, there is talk of a second course on the land behind the lighthouse. Messrs Hanse, Doak et al have all been said to have had a look at it. But they will be going some to beat Oliver and DeVries' masterpiece here.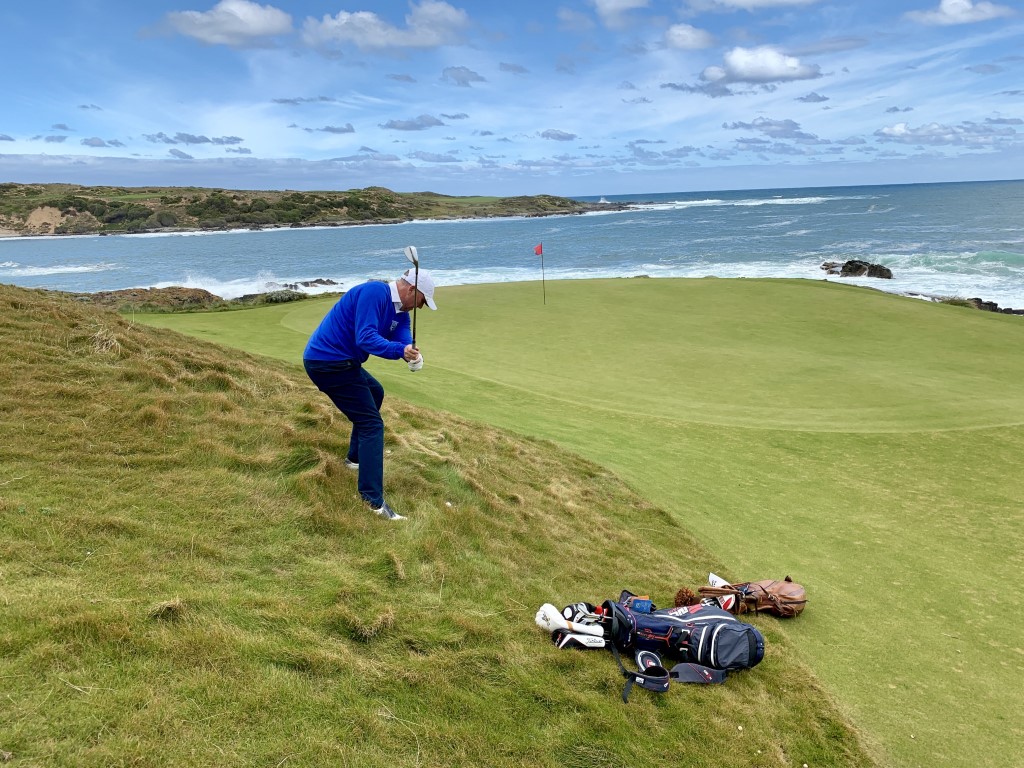 BOOKING THE COURSE
Like neighbouring Ocean Dunes, the course is open to visitors 7 days a week. The best way to book a time is to email them - all details are here. The green fee is A$230 for 18 holes (around £120), and $260 for 36.
TOUR TIPS
The only way to get to King Island is to fly from Melbourne. We did that with Vortex Air - a charter company who then took us directly to Barnbougle Dunes, But there are other (and cheaper) options with Rex Airline and Sharp. If you book well enough in advance you can get return flights for around $300AUD (£160). It's only an hour away from Melbourne, although if little planes which shake a lot in the wind aren't your thing you are in trouble as there is no other way onto the island.
We picked up a hire car from the welcoming and efficient King Island Car Rentals at the airport. We paid $100 a day (about £60) for a perfectly serviceable Mitsubishi Overlander that did the job just fine.
Be aware that when you land on the island your clubs and shoes will be inspected for grass and dirt and you will be asked to clean them if there is much on them - they are trying to protect the grasses on the island.
Cape Wickham is at the north of the island, about 45 minutes from the main town of Currie. There is accommodation on the golf course but be warned you are pretty remote here and there won't be anything else to do or see apart from hang out at the golf course. The clubhouse is still a temporary one and, while the service was great, you will be a little isolated. For that reason we headed for Currie.
The island has 2,000 residents and about half of them are in Currie, which has a couple of hotel options. We stayed at the King Island Hotel, owned by the same people as the golf course - expect 3 star motel standard and a warm welcome.
For evening entertainment we had a walk to the King Island Golf & Bowling Club. There's a little 9-holer here (although we decided it was too windy and we were too tired to head out) and wonderful views from the terrace towards the ocean. We had a lovely meal at the Oleada restaurant (it's pretty small so I would advise booking).
For more details of our trip you can check out my blog post here.