The world will be watching Le Golf National year as it plays host to the Ryder Cup. If truth be told, Le Golf National is never going to win any awards for great architecture and, apart from the few amphitheatre holes, it won't set your pulse racing. It is a step up from the dire PGA Gleneagles and Celtic Manor for sure, but if you are looking to play quality golf around Paris, there are far superior options. Here are some ideas for a pretty great golf trip around the French capital -
Fontainebleau (click on course name for detailed review)
If I had a Euro for every time I heard the phrase 'hidden gem' in the context of a golf course, I'd be a rich man. Yet, that's exactly what Fontainebleau is. This Tom Simpson course will test guile over length and is just a delight to play. The course is carved into the forest but isn't so tight as to intimidate.
This is an old-school members' club but they are happy to take visitors and you will get a warm welcome. The course is built on sandy ground and, even in a very wet May, it was in cracking condition. Only 45 minutes south-east of Orly airport, this makes for a great first stop on a trip to the area.
Les Bordes
Keep going another hour and a half south into the Loire and you will come across the amazing Les Bordes. Believe me, it is well worth the trek out of town to play here. For years this course has been shrouded in rumour, myth and secrecy. It was consistently ranked in the top 2 or 3 in Europe but little was known about it as it was virtually impossible to pay unless you were with one of the dozen members.
That's all changed now (for a while at least) and you can get a game here if you ask nicely, and stay overnight at one of the lodges - details are on the link. The experience will live with you forever. Robert von Hagge created a brute of a golf course, as hard as anything you will ever play. As if to prove the point, there is a board up in the clubhouse with the names of all of those who have broken 80!
The course will be immaculately presented and you will have the place pretty much to yourselves. For me, it was too brutally difficult to rank as one of the great courses of Europe but I would recommend making the trip if you are playing in Paris so you can judge for yourself.
Saint Germain
This Harry Colt course has undergone some restoration in recent years and it is a really pleasant place to add to a Paris golf trip. In a previous era, when the ball didn't go as far and you could hold a professional golf event on a course under 7,000 yards without fear of humiliation, the greats like Faldo and Ballesteros strode these fairways. It would be put to the sword by the pros these days but the members haven't tried to trick it up unnecessarily.
It's not massively generous off the tee though and the green areas have a lot of swales and burrows, so accuracy off the tee and a good short game are the secret to scoring well here.
Saint Germain isn't in quite the same league as Fontainebleau and doesn't come near to Les Bordes or Morfontaine but it will leave you more than satisfied and it oozes history. You can play on certain weekdays and Saturdays in the height of summer when the Parisiens head south. Make sure you take time to enjoy a meal or a drink on the terrace looking over the putting green and 9th green - it's a lovely spot.
Saint Germain is to the north-west of Paris, about 30 minutes north of Versailles which would be a good base to play here and Paris National.
Le Golf National
Unlike pretty much every other course on this list, access at Le Golf National isn't a problem - this is pure resort golf. The course is centred around a Novotel hotel in an industrial park to the west of Paris. Sounds nice doesn't it?!
As I say in my review, it's not an awful golf course by any means, but you will only really remember the first couple of holes and and the last few where water comes into play. The rest are fairly bland. This is a tough course too when they want it to be with a lot of rough in play which can get really hard to play from.
My memories may be slightly sullied by the poor condition the course was in at the end of May - no run on the fairways and bumpy greens. But, more than that - the place has no soul. That's not the end of the world, but every other course on this list beats it hands down for atmosphere.
Morfontaine
Morfontaine is the undisputed number 1 golf course in Continental Europe. Tom Simpson designed this course in the 1920s to be the playground of a French nobleman. The course is simply magnificent. It is a heathland course with many holes framed by tall pine trees. The ground runs fast and every hole has new features to marvel at. It's not a long course, but you will be asked questions of your short game you may never have been asked before. The whole place has a magical feel to it. The clubhouse is like entering someone's private home and the tranquility of the whole course is quite something to behold.
The 9 hole Valliere course was the original layout at Morfontaine and you need to play it if you are there. Geoff Shackelford puts it well when he says in his article, 'Memorable, playable, fun and fascinating, Valliere features some of the most outrageous man-made greens in golf.'
So that all sounds very good doesn't it? But there is, inevitably, a snag. This is one of the most exclusive golf courses in the world and getting a round is one of the hardest achievements in golf. The first time I played it I went through Private Golf Key but, be warned, it is expensive. If you ever meet a member, be sure to keep in touch!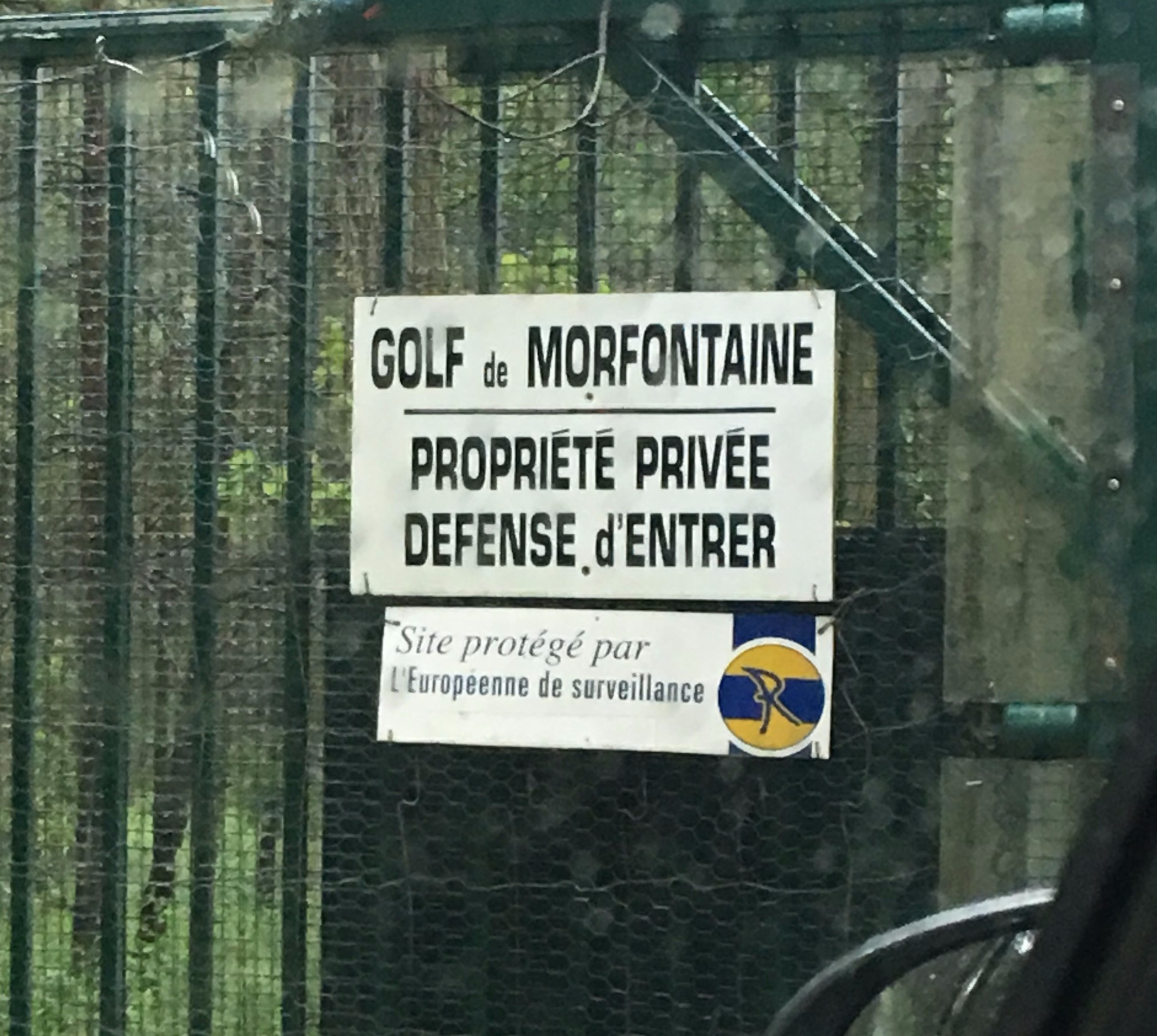 One other course to consider is Golf de Chantilly which is close to Morfontaine. It's another one with a great reputation and open to visitors. I've not played it yet but Michael Clayton is one of the many to sing its praises.
There are a couple of things to take into consideration when planning a trip. Firstly, this is quite a tricky trip to do over a weekend as access will be hard at most courses then. You should be OK at the National and Les Bordes but for the others you will need to work on a weekday game. Also, do not underestimate the Paris traffic. At rush hour you can find short distances take for ever!
A golf trip to Paris takes a bit more effort than the obvious candidates of Spain or Portugal but you will be richly rewarded. I have always found the welcome very warm and don't worry if you don't speak the language, English is widely spoken although some attempts at a bit of French will be appreciated.
If you want a bit more inspiration for a golf trip to France have a look at my country guide here or my recent article on playing in the south where the quality may not be quite as high but it's more accessible and has a better climate!